Infinigate får rekordomsætning i 2021
---
Fra Infinigate Group, Rotkreuz, Schweiz 26. maj 2022
Infinigate Group announces record financial year results with revenue growth of 26% as it surges ahead with European expansion strategy
Infinigate Group, a pan-European value-added distributor (VAD) of cybersecurity solutions across Europe, today announced record results of €813m, for its financial year 2021-2022 (ending 31 March) an increase of 26% from the previous year, and a step towards its €1.5 billion revenue target for 2024.
Infinigate had a strong start to 2022 with the acquisition of VAD D2B Informatique – which was a key step in its wider growth strategy through vendor expansion and M&A activity to extend its market reach and consolidate its position as the leading distributor of cybersecurity solutions and subscriptions across EMEA, and the best Go-To-Market (GTM) for cloud security vendors.
The financial year announcement coincides with a record first quarter for the cybersecurity specialist, which now has 80% of its revenue from subscription-based services. The results also follow a pivotal year for the cybersecurity specialist, which was acquired in March 2021 by global investment firm Bridgepoint.
In October 2021, Infinigate Group announced it had further strengthened its leadership team, with key senior hires including the appointment of industry veteran Julien Antoine to steer business development and the promotion of Andreas Bechtold as Chief Revenue Officer. As part of its expansion, Infinigate has also rapidly grown its team, reporting a 10% increase in staff numbers since March 2021.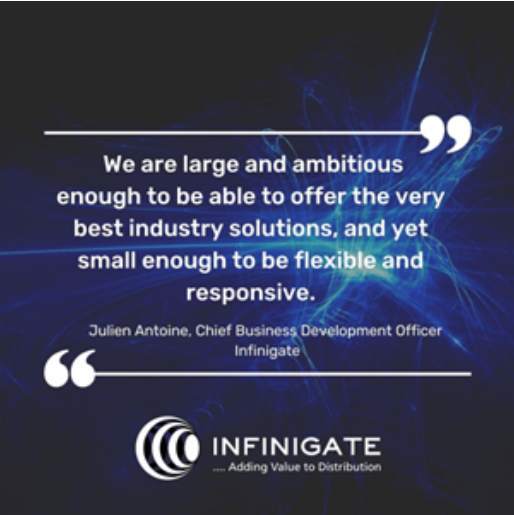 A year of value
Julien Antoine, Chief Business Development Officer of Infinigate, said: "Our relentless focus on the value within our 'value-added distribution' is at the heart of our success and growth. This customer-centricity is key – enabling us to respond with agility and highly customised support to each customer. We are large and ambitious enough to be able to offer the very best industry solutions, and yet small enough to be flexible and responsive – so we are able to offer vendors and re-sellers the best of both worlds."

"Our focus right now is to accelerate the digital value-add that we offer to our customers with a focus on building strong ongoing relationships – we work as an extension of our clients' teams, and we want all our company values to be present both within our organization and with our partners. We're delighted to find that experienced industry sales and technical people are seeking us out, especially as we look to grow our team to meet increasing demand."

Award-winning service
Klaus Schlichtherle, CEO of Infinigate, said "Having already consolidated Infinigate's position as a leading VAD in Europe, our strategic leadership hires last year further strengthened the team and helped us prepare for the next phase of growth. A steadily rising number of partnership deals with multinational industry-leading cybersecurity software vendors means we are able to offer our customers more choice, and helps us become the leading choice for cloud security vendors looking to boost their sales across the region."
In 2021, Infinigate continued to win a raft of awards across EMEA and Infinigate Sweden was announced as distributor of the year by cybersecurity provider Clavister in November 2021. And already, in 2022, Infinigate has chalked up three award wins – once again scoring Channel Excellence in the Channel Partner Awards and winning VAD IT-Security and VAD Managed Service in the IT Business Distri Awards.

Infinigate Group was founded in 1996, and now spans 11 European countries and covers more than 80% of the Western European cybersecurity market and is firmly established as the leading value-added distributor for cybersecurity in Europe.
About Infinigate Group
---
Infinigate Group's sole focus is the distribution of sustainable IT security solutions to protect and defend IT infrastructure as well as the cloud. As a true Value-Added Distributor, Infinigate Group focuses on and supports innovative, best of breed security solutions that require an advanced level of expertise and knowledge.
Infinigate Group offers a complete service to its partners, MSSPs and vendors to complement its product portfolio with dedicated technical, marketing, sales and professional services. Following a number of successful market entries and acquisitions, Infinigate Group aims to continue driving forward its strategy of geographical expansion across Europe.
Today the Infinigate Group has about 500 employees and operations in 11 European countries including United Kingdom, France, Germany, Switzerland, Austria, the Netherlands, Belgium, Sweden, Norway, Denmark, and Finland.
With this strong setup, Infinigate covers close to 85% of the Western European IT Security market potential, establishing itself as a leading European Value-Added Distributor for IT security, cloud and MSP: www.infinigate.com.
For further information, please contact:
Julien Antoine, Chief Business Development Officer
julien.antoine@infinigate.com